It's great to finally be able to officially announce that our new spawn area on the Massively @ jokaydia Server is OPEN!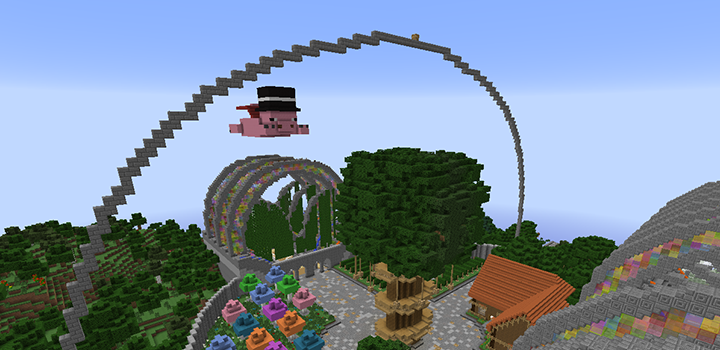 We've been rebuilding our spawn on the Massively @ jokaydia Minecraft server over the last month or two with the aim of creating better resources for both new and old players alike. To visit, simply type in the command '/spawn' or '/mvtp massively' and you'll be teleported over to the new area! For new players – you will spawn there when you first login.
There are lots of new resources and info built into the area. Hopefully everyone will enjoy hanging out there, and you'll also find some interesting stuff to explore and join in on!
Special Thanks!
Special thanks to all the miners who helped to create our new Spawn – especially DrBomber who I had a great time collaborating with, plus 9bear9, Neenan262, Buzda, Owen02 and many others! Everyone did a great job working together to create a great new design! Well done miners!
---
Check out the different areas below!
Spawn Landing Area
The spawn landing area has lots of signs to help people find their way around and learn some of the basic commands to help them get started.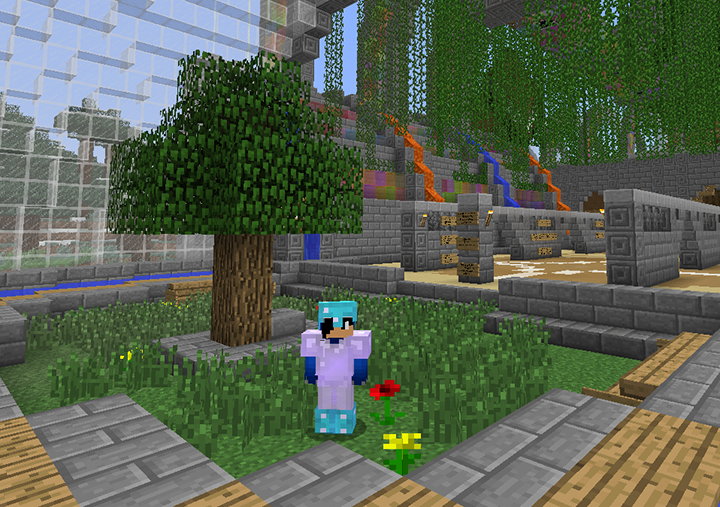 Massively @ jokaydia Town Hall
The town hall has heaps of useful information and links back to our website. You'll find the Guild Charter there, info about our Awards and how you can level up, Warp signs to help you find interesting places to explore and lots of tips for both new and old players.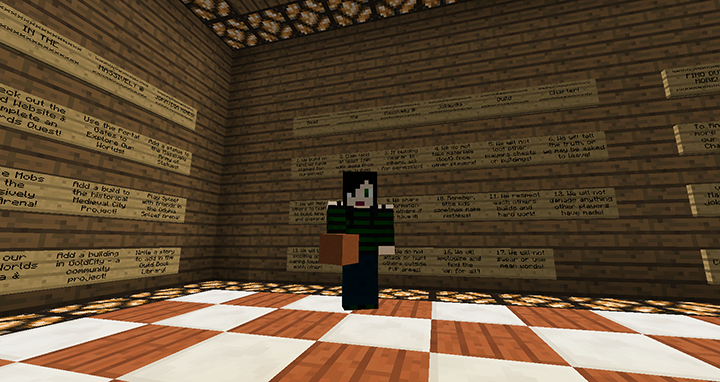 Mini-Games Garden
The Mini-Games Garden has Warp signs to our cool collection of Mini-Games including Spleef, ColorMatch, MobArena and our player made MiniGames Area. Check them out and play some cool games with your Minecraft buddies!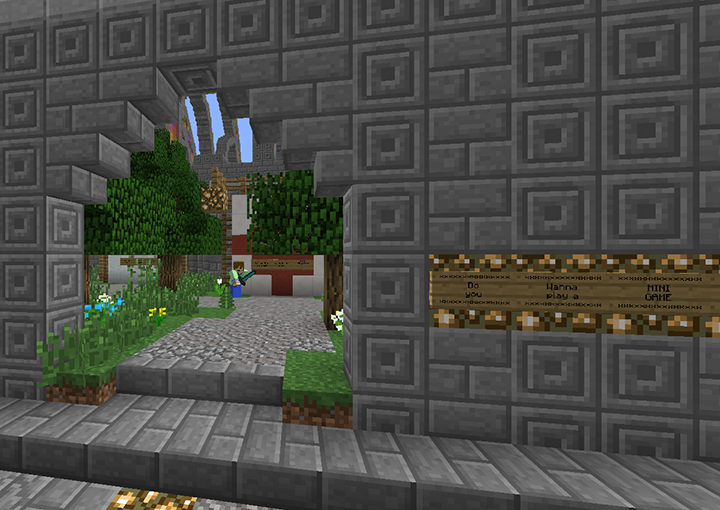 Portal Halls
The Portal Halls area has a big collection of Portal Gates you can use to visit each of the Worlds we have on our server, as well as special project areas like DiamondCity, Minetopia, GoldCity and MedievalCity. Walk into the water and you'll magically teleport to a new location!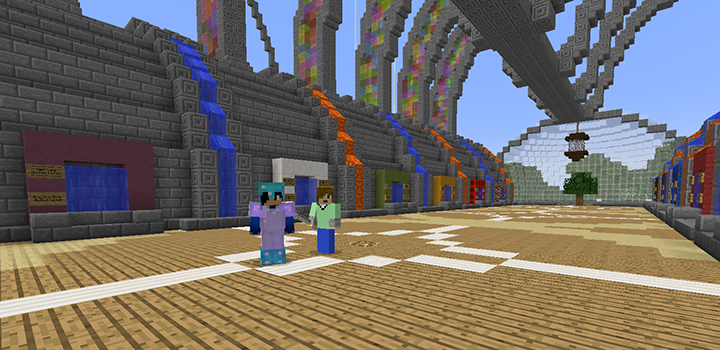 The Newbie Garden
The Newbie Garden is a cool little island filled with signs and messages left by Massively@jokaydia players. Add your sign there to claim the Newbie Award!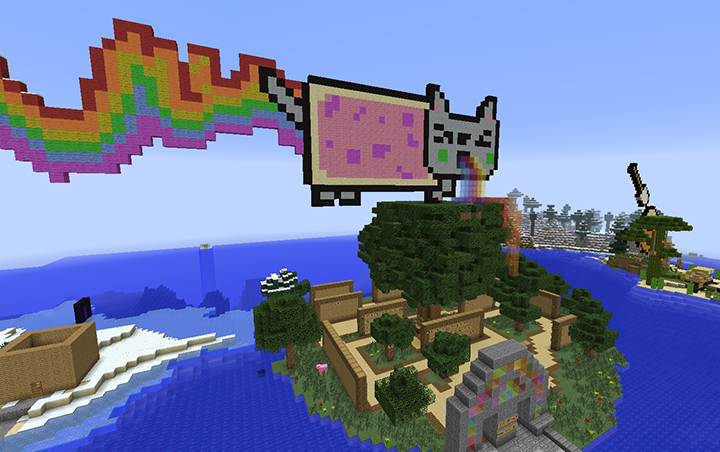 The Warp Gardens
The Warp Garden is a huge library of Warp signs which is constantly being added to by our players. Explore your friends latest creations by clicking on a sign to warp over, or add your own warp sign so others can find your cool creations.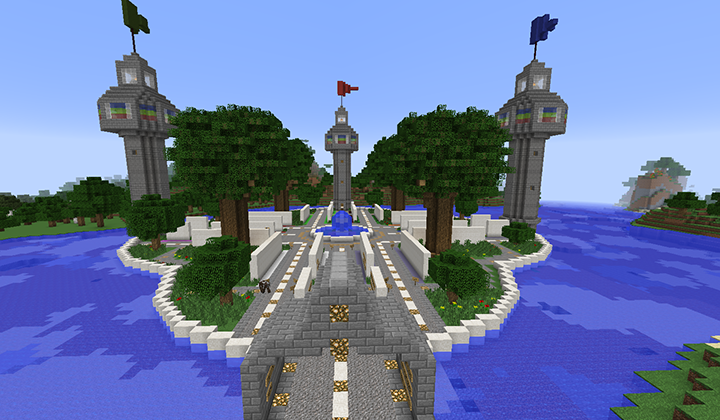 New Massively@jokaydia Army of Avatar Statues
Walk along the bridge to check out our new army of avatar statues and find a platform to build your own! You can claim the Statue Maker's Award by adding your own avatar statue to the collection.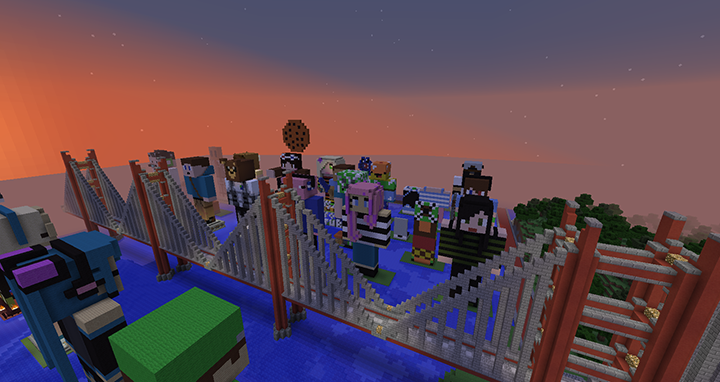 GoldCity
GoldCity is our newest community town building project and is starting to get very cool! Check out the interesting buildings there and add your own!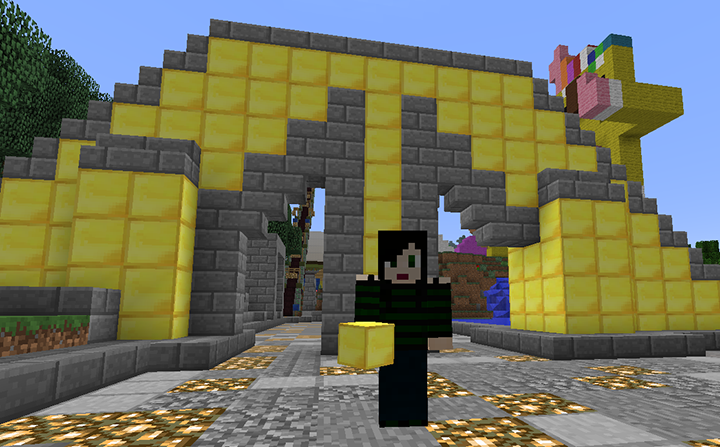 Diamond City
At the end of the big red bridge, you'll find DiamondCity – an epic town built by our community members. Find a spot and add a shop, house, hotel, game or anything else you think our town might need!