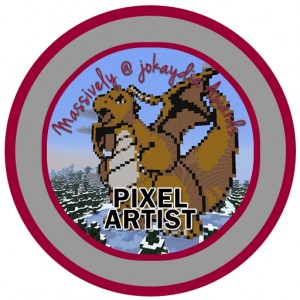 By popular demand, we've added a new award – the Pixel Artist Award, which celebrates all the brilliant Pixel Artists in our community!
To earn this award you'll need to:
Go to the Pixel Art Gallery on the Massively@jokaydia Server. It's at /warp pixelart.
Create an epic piece of Pixel Art which is at least 20 blocks high OR 20 blocks wide.
Report your epic create to a Massively@jokaydia Moderator to claim your award.
I'm really looking forward to seeing all the epic new Pixel Art in our gallery .. let the fun begin! 😉
Have you got a suggestion for a new award? Post your ideas in the comments section below!