A message from GoldenZizzle8383

Hey Guys, it's GoldenZizzle8383 here.
As most of you may know massively culture fest started last week. It's a really fun time to build about your country and learn about others too! This is important because we really need to find out more about each over and we will have some better understanding.
Here is some more info:
You can build your Massively Culture Fest build from 29 Sept 2016 (NZT) to 12 Oct 2016 (NZT)
You can earn an Award for taking part in the Massively Culture Fest. All you need to do is build in one of the plots at the Culture Fest Area which is at /warp Culture.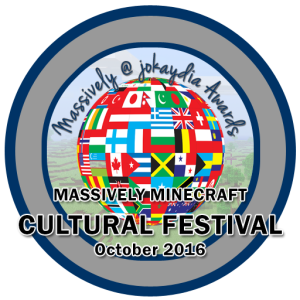 For help or info talk to GoldenZizzle8383 or jokaydia in game or on the guild website. 
Have fun miners!
***************
Massively@jokaydia Fundraiser 2016
Don't forget this month is fundraising month, and you can support our community by making a donation via our GoFundMe Campaign! All funds raised will be used to pay for our server bills, web hosting and other costs associated with running the Massively@jokaydia Server and website!