Getting Started in Second Life
Launched in 2003, Second Life is an online 3D virtual world created by Linden Labs. Much like massively multiplayer games, Second Life provides an immersive environment for users to play and interact in. However, Second Life goes beyond a game, allowing residents to build and create their own environments; and interact with others from around the globe. For further information see the About Second Life page.
This resource provides an overview of the key features of Second Life, and some tips and tricks to get you started.
Signing Up for Second Life
To create your account and prepare for your first visit to Second Life, follow the steps below. All who are intending to join us for Islands of jokaydia Events will need to follow these instructions!
Step 1. Check System Requirements!
Second Life has specific software and hardware requirements. If your computer doesn't meet these requirements, you may not be able to participate in Second Life effectively. Click here to check the system requirements page.
Step 2. Signup on the Second Life Website
Visit the Join Second Life Page on the Second Life website at: at: https://join.secondlife.com and follow the instructions.
You will need to choose your avatar and complete the signup form.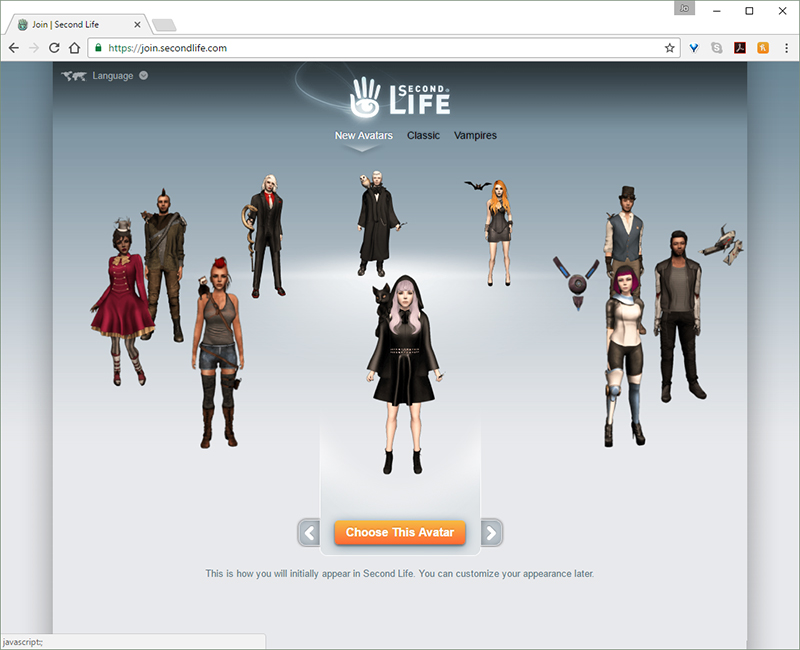 Consider:
You'll need to choose a name for your New Avatar: You don't need to use your real name… be creative.
New users need to choose a basic setup for their new avatar. There are a number of male and female options on the website to choose from. (see pic.) Don't worry too much about this, as you will be able to modify and create your avatar later on.
Choose a Free Account or Premium Account option. A free account lets you explore all of Second Life and is fine for most users. However, a premium account provides additional extras including some virtual land to build your virtual home.
Remember:
Complete the Registration Form: Add the required details to the final registration form (name, password, email address etc) and submit.
Use an email address you can access to verify your account.
Write down your password!
Verify Your Account: You'll need to check your email and verify your account before you can access the Second Life grid. Make sure you check your 'Junk Mail' folder if you have difficulties!
Step 3. Download and install the Second Life client
Users need to download and install the Second Life software onto their computer. Options for Windows, Mac and Linux users are available.
You must have this software installed in order to access Second Life.
If you need to download a new version of the Second Life client, visit the Downloads page.
Step 4. Log in to Second Life and Start Exploring!
That's it! You're ready to start your Second Life.
Launch the Second Life software and login. You will arrive on Learning Island where you you will be able to use the resources there to familiarise with the Second Life interface.
Step 5. Visit the Island of jokaydia
You are welcome to use the Islands of jokaydia as a safe home base during your initial explorations of Second Life.
To visit us go to: http://maps.secondlife.com/secondlife/jokaydia/131/127/23

This work is licensed under a Creative Commons Attribution-NonCommercial-ShareAlike 4.0 International License.